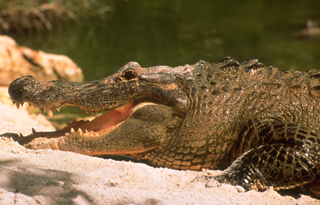 Come visit us deep in the Everglades – At our Gator Park's Partner you'll see all sorts of wildlife – such as alligators, turtles, snakes, fish and exotic birds –as you take one of our famous Airboat Rides deep into the Everglades National Park. All our tours are narrated by professional guides so you'll have the opportunity to learn about the unique wetlands and its native inhabitants.

We will also show you how to wrestle a large alligator at our exciting Wildlife Show. And if you are brave enough, you can even hold a baby gator in your arms!

At Gator Park, you'll also have the chance to walk around and visit with our resident turtles,macaws and peacocks. Be sure not to miss our great display of snakes, such as the Blackpine,Brooks Kingsnake, Florida Kingsnake and Red Ratsnake.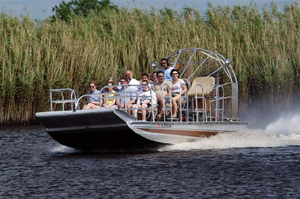 Airboat Tour
The Gator Park Airboat Tour begins slowly down the canal with plenty of opportunity to observe wildlife in its natural habitat. Our experienced and professional guides will help you spot alligators, both large adult and small immature alligators, soft-shelled turtles and numerous birds (be sure to keep your camera ready). One of the first alligators you are likely to spot is Jumbo. An impressive 6 feet in length, Jumbo likes to play host and greet Gator Park's guests.

We'll also pass a replica of a common fishing camp used by Indians, a structure made of palm and cypress wood, called a chickee.

Then, we'll pick up speed and head for the river of grass. We'll take you where the saw grass grows tall, giving the appearance of an open prairie stretching for miles on end. Out here there is no dry land, except for the tree covered islands called hammocks. On these hammocks you can find mammals such as raccoons, whitetail deer and wild boar.



The Everglades was coined "The River of Grass" by Marjory Stoneman Douglas in 1969 because the water is not stagnant like that in swamps, but instead travels very slowly from north to south. The Everglades is one of the world's largest and slowest flowing rivers.



The water isn't too deep, averaging only eight to twelve inches, depending on the rainfall. It is also as warm as bath water, about 85-90 degrees at high noon during the summer.

Because the water pertains to a wetland system, you'll notice that is also clean and odorless.

Gator Park's airboats, all sporting Cadillac engines and high performance airplane propellers. Tours depart from our docks every 20-30 minutes throughout the day!